Multiple Modalities Of The ITS Implant Titanium Scaler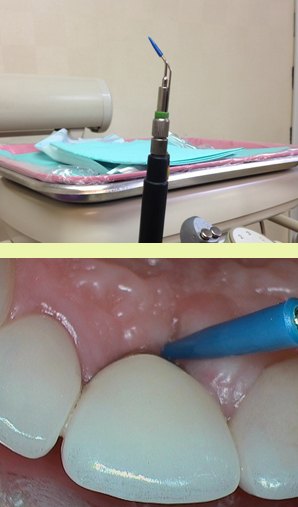 by Madalyn Poster Rosenbluth, RDH
With the tremendous increase in implant placements in the last decade, there has been an ongoing challenge for the dental clinician in performing optimum prophylactic maintenance of these titanium abutment dental replacements. Today, through many engineering design renovations and thousands of hours of clinical testing, the dental hygienist has a highly effective ultrasonic implant scaler, the Implant Titanium Scaler (ITS*). The ITS allows thorough debridement of all surfaces of titanium abutments without marring the surfaces while also providing the advantages of lavage and cavitation to their surrounding tissues.
What transpired unbeknownst to many who have utilized this instrument is how versatile the ITS turned out to be. The uses of the ITS are multifaceted in that, at this point in time, its name surely must be rethought, perhaps the MMS (multi-modality scaler) would be more appropriate.
The ITS is a zero sensitivity ultrasonic instrument! This is due to the design of its blue plastic tip which works on low power and moderate to high warm water flow (approximately 50 cc per minute). This allows the dental hygienist to successfully debride the most sensitive patient, an enigma that faces us everyday.
This versatile instrument is the answer for our patients with cervical abrasions and root exposures, where not even polishing or hand scaling is well tolerated. When composite restorations, porcelain laminates, or crowns to these areas have been placed, the ITS can deplaque the cervical margin areas without any chance of fracture or damage to the surface.
Many geriatric patients present with copious amounts of food debris in addition to their build-up of heavy plaque. They constantly present with gingivitis and are intolerant of instrumentation of any duration. With the ITS, the clinician has a highly efficient, expeditious, and comfortable scaling to provide for them.
The next populace of patients to address with our multiple modality scaler is the orthodontic patient. Here we can now debride the classic ortho hygiene mouth that made us flinch with distress in days past. The ITS/MMS can effortlessly deplaque with no discomfort to the normally inflamed gingival margins of the orthodontic patient. Instrumentation is possible around all porcelain brackets, stainless steel brackets and bands, and their adhesive material without any chance of breakage. The added benefit of the lavage to ortho patients enhances debridement under archwires, chains, expanders, and all hardware found in our advanced orthodontic patients.
Now when we see pediatric patients with chromogenic staining, heavy facial plaque, and not so rare lingual calculus on the mandibulars, we can reach for our "water scaler" to comfortably and quickly remove these deposits on our most squeamish patients with no pain.
There are multitudes of positive testimonials from the hundreds of dental hygienists who have advanced with their clinical practice into the prophylactic treatment with implants utilizing ultrasonic instruments, designed for the implant patient. Once thought to be rare or occasional, the implant patient is becoming the norm and in turn the denture and or partial is becoming a rarity. As a result of the development of highly efficient power instruments for the implant abutment, we have a versatile patient-friendly instrument that can be used for many challenging patients.
The ITS Implant Titanium Scaler is designed and developed by Tony Riso.
Madalyn Poster Rosenbluth, RDH, has been a practicing dental hygienist for 29 years, clinically devoted to advancing her periodontal patient therapies for 25 years for renowned periodontist Morton Rosenbluth, DDS, in Bay Harbor Islands, Fla. Currently licensed in Florida, Arizona, and New York, Madalyn practices her preventive/periodontal hygiene therapies in Bronxville, N.Y., with Dr. Quentin Murphy, and in Hartsdale, N.Y., with Drs. Miller, Salomon and Esposito. You can contact her with feedback and questions at madultrasonics@yahoo.com.