Rebuilding of all P-Type metal inserts:

All working parts are replaced with new parts from tip to stack

Rebuilding of ProphyJet, CaviJet & All Air Polishing Nozzles:

Rebuild broken and clogged air polishing nozzles into reinforced instruments that exceed manufacturer's standards. Save money and receive superior quality

Repairs on ALL Magnetostrictive Units

Free estimates and fastest turnaround in the marketplace

Warranty on repaired items and labor

New and Refurbished Ultrasonic units, air polishers and combination units available for purchase.

Auto & manual tune units, 25KHz, 30KHz or combination frequency available. Completely overhauled & refurbished with 1 year warranty

Ultrasonic handpieces and footpedals:

Repair, Refurbish, Recondition or Replace with NEW equipment.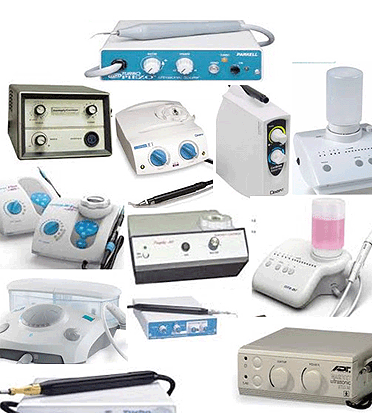 ALL INSERTS, UNITS and their HANDPIECES need periodic maintenance. Let us do a periodic checkout and tune up your ultrasonic equipment!
Mailing Instructions for Repair of Ultrasonic Units and Accessories
Please call us before shipping your unit 914-844-6313
Box unit with all accessories, foot pedal and handpiece. Disconnect all plugs & pack carefully with plenty of protective bubble wrap. (include one of your inserts for test purposes)
Ship Magnetostrictive Unit with
Repair form to:
MadUltrasonics, LLC
Attn: Frank
300 EAST Oakland Park Blvd STE # 318
FT Lauderdale, FL 33334
Ship package via USPS, UPS, FEDEX, DHL, or AIRBORNE, your preference air or ground. We recommend insurance for replacement value and tracking abilities. Our free estimate is within 24 hours of receipt and after approval, repair time is within I business day.